Links
New House we are building in Asheville, NC

---
James & Cills Trips
Other Paages
Background
Where We live

We have sold "Jamcill" and are now planning to buy land in the mountains of North Carolina and build a home.
James built the pole constructed house to the right.
James moved here in 1977 from Nyack NY to build a cabin in the country and get away from the urban lifestyle. We have since sold the house and moved to New Bern, NC.
2012 We have sold the boat and are now building a home near Asheville, NC
Who we are
James grew up in Santa Barbara, California spending his high school years surfing. Cilla was born in Hawaii, but ended up in NY owning and operating a dairy farm.
The home you see here was built over the past 20 years by James. It is pole constructed and sets on 8 acres of hilltop.
James and Cill started and maintain a boating association for Cheoy Lee's. www.cheoyleeassociation.com
Our Boat at Wayfarers Cove Marina,
North Carolina near New Bern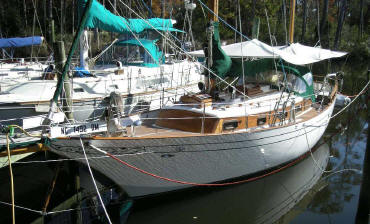 View of our home in New York now sold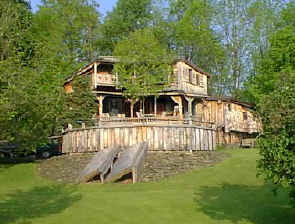 House was built in 1976 on pressure treated poles. It has 5 bedrooms and a floor plan
of many different levels. A swimming pool
is build into the front deck with a
great view of the valley.