Jan/0

9

"Yachting Magazine" has a nice article on the Cheoy Lee Serentity 68 Long Range Motoryacht. Thanks to Cheoy Lee of N. America for submitting this article. Click Here for PDF copy
Dec/08 "Soundings" magazine did a nice article on the Cheoy Lee Clipper 36 that James & Cilla own. Click Here to view article
May 08 ""Yachts International Magazine" also did an article on the Bravo in their May 08 publication. Click Here for PDF copy
March 08 "Southern Boating" published a nice article on the

Cheoy Lee Bravo 78. Thanks to Cheoy Lee of N. America for submitting this article. Click Here for PDF copy

Oct/04 It has come to our attention that the "professor" from Gilligan's Island, Nathan Hale owns a Choey Lee, likely an Arthur Robb designed Robb 35 or possibly a Lion. His C.L. is berthed in Santa Barbara.
Chris Dail and Kathy O'Neill
Owners of "Kanoa" a 1961 Robb 35
July/04 Andrew and Ginny Skok have sent us a copy of the article that Ginny wrote for the Jan issue of "Soundings" They sail a Perry 44 "Jenny-Beth" out of CT. Click Here for pdf format of article
7/04 - Hi folks! I found your site last year and I don't exactly remember how. When I was in my early teens, I'm 51 now, we had a couple different Cheoy Lee boats. The first was a "Frisco Flyer' and then we graduated up to a "Lion 35' after we had difficulty sleeping on board the Flyer. My feet would get tangled up in the sink plumbing from what I can remember. I believe our Lion had hull # of 1900. We had it moored at Holiday Harbor in San Pedro. My Dad had dreams of sailing into the sunset with my Mom after retirement but was taken from us by prostate cancer at the age of 57 in 1974. I do remember the actor Lee J. Cobb had a Robb 35 there and we would see him on his boat from time to time. Also, James Arness had an Offshore 40 in the area named 'Seasmoke'. I'm looking at a picture right now of my my Dad sailing the Lion in the waters off San Pedro with the American flag flying on the stern and the Lion on the mainsail. Keep up the great work with the website ! Thanks again, Jim Kelly
01/04 The January 04 issue of "Cruising World" has an interesting article on two brothers, Andrew and Chris Krajacic and their adventures from Santa Barbara California to Australia on a 1968 Offshore 31.

12/03 In the January 03 issue of "Cruising Helmsman" an Australian magazine there is an article on one of our members - Chris Kirkwood's adventures in purchasing a Clipper 33, "Dragon Lady"
10/02 Kevin Garthwaite sent email that the boat used in opening scenes of the new movie "Red Dragon" was a Cheoy Lee, if anyone has more info please submit
NOTE: We have confirmation now on this sighting, Click Here for the Cheoy Lee used in this movie.
Sail Magazine, August 2002
A quick Cheoy Lee sighting for you. In the August 2002 issue of Sailing, the Beauty of Sail Magazine there is a nice write up about Denis Reuart and his Robb 35, China Doll. He's owned the boat for 22 years and tells a story about how she stood up to a big blow off Nassau. Nice picture of China Doll and skipper too. Page 57.
-Rob

Good Old Boat Magazine
Sep/Oct 2002 issue had article on Bob & Fran Deckers Cheoy Lee 35
05/12/02 Claiborne Young cruising guide book used a Cheoy Lee for the cover art
01/12/02 "Chesapeake Bay Magazine" Jan 2002 featured on their cover a picture of a Cheoy Lee Clipper owned by Captain Ross, U.S.C.G. Here is photo of cover, click for full image and thanks to Glenn Coleman, on "True Lee" an Offshore 33, for submitting the photo
May/June issue of Good Old Boat had a great article on the Offshore 40. Plus the August issue of Cruising World noted that the Clipper 36 was one of the great buys in solid classic used boats. They also mentioned our association's website... Also the June 200 issue of Practical Sailor ran an article on the Richards Offshore 41.
Michael Keaton Movie "Multiplicity"
I recently viewed 'Multiplicity' with Michael Keaton. The first sailboat
scene at the dock is aboard a CL 27 Cadet (positive I.D.). The
subsequent scenes at the dock and sailing appear to be aboard a much
larger CL.
Dave and Patricia Purnhagen (Wings of the Morning 27 Cadet)
Owner of this boat has email us. Name of boat is "Pearl"
Good Old Boat Magazine
Kate Godfrey-DeMay who sails "Clarity" an Offshore 31 with her husband Paul, had a great article published in the July/Aug issue of Good Old Boat Magazine. Article has great info on history of company as well as info on the designers of the various models of Cheoy Lees.
Possible Cheoy Lee Sighting
Wayne Stoeckert wrote us that he believes the sailboat used in the new movie "Talented Mr Ripley" may be a Cheoy Lee - any confirmations?
Maeva (Cheoy Lee Midshipman 52)
was recently seized in Australia following a failed attempt to smuggle $50 million worth cocaine. The following sites have articles about the event.
Regards,
Gavan Scott.

Here is one of the articles that Gavan sent us, guess not all Cheoy Lee owners are people we want as members. Gavan is looking for any other information on Maeva people may have. He has purchased her at public tender. james...
International cocaine smuggling operation
A major investigation involving a combined task force of more than 100 Customs officers and Federal Police agents has resulted in the arrest of persons believed to be part of an international cocaine smuggling operation which has previously imported large quantities of cocaine into Australia.
Around lunchtime yesterday, 225kg of cocaine was seized from a runabout associated with a (Cheoy Lee) yacht moored at Coffs Harbour on the NSW North Coast.
Four people - three men and one woman - have been arrested.
This is the largest cocaine seizure in Australia's history. The previous largest single seizure was 174kg in 1994.
Operation Gentle commenced following Customs inquiries into a suspicious vessel that had arrived in the NSW port of Forster from overseas in February this year.
Federal Police inquiries revealed that more than six million dollars, allegedly the proceeds of cocaine sales, had been transferred out of the country by people believed to be connected with the vessel.
Further investigations revealed another plan by this syndicate to import a large quantity of cocaine by yacht from South America. The syndicate members included an Australian man, a Spanish woman and a Miami-based expatriate Australian.
Federal agents monitored the movements of the suspects in Australia which led to the identification of the yacht, Maeva Chiqui, allegedly used to transport the drugs across the Pacific to Australia.
Extensive surveillance by Customs Coastwatch aircraft and Customs marine fleet vessels tracked the yacht's approach to Coffs Harbour. It is alleged that the 18-metre ketch was sailed by a crew of three from Venezuela via Panama to the Marquesas Islands and Tonga to Coffs Harbour.
The cocaine was allegedly hidden in the hull of a small runabout that was transported on the deck of the yacht. The arrests were made when this runabout was loaded onto a boat trailer and the alleged importers attempted to leave the scene. They were arrested and charged with importing a prohibited import.
AFP forensic staff then commenced a detailed deconstruction of the runabout to recover the drugs. The concealment was very sophisticated.
Three men and one woman were due to appear in court in Coffs Harbour this morning.
Andy Laurence aboard "Triton" from Hong Kong sent us the following e-mail with two pics. "Hi, I found this advert for CL in this month's Fragrant Harbour (HK's yacht magazine) - thought you might find it of interest. Also Jon Cannon in action aboard Gecko - CL 45, he lives aboard." Click for full view... Thanks Andy
Elvis Movie - Tim Scearce e-mail us to say that a Cheoy Lee Lion is featured in the 1962 Elvis Presly movie "Girls Girls Girls"
L.L.Bean - Early Summer 1999 Catalog for Men
Thanks to Ben Stavis for submitting cover of catalogue, again anyone know the owner?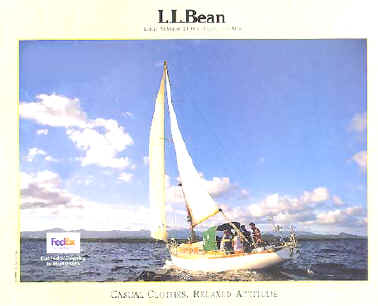 Honda Ad in "Time" magazine June28, 1999

Perhaps you may have noticed that the composite picture in the magazines lately for the Honda Acura has a Cheoy Lee in the background, this was pointed out to by Ben Stavis. Anyone know who owns this boat?
Well the owner has email us.
"I just viewed your website and the Offshore 40 in the Acura ad is
RUSALKA, built in 1973 and I have owned her since 1974. The "photo"
(since it is a composit with two views...side and bow, as well as
multiple images of the masts) was taken near Salute Restaurant in Marina
Bay, Richmond, California. Other photos of RUSALKA are on the
Reliant/Offshore 40 website."

Patricia Zajac
Pt. Richmond, CA
RUSALKA

Latitudes & Attitudes
Hello James,
Thought I might pass on to you that the relatively new magazine
"Latitudes & Attitudes" has a nice new feature article on yet another Cheoy Lee. This is the second feature article that they have done on Cheoy Lee's and this one is particularly of interest to me because it is of a clipper. The 1975 36 foot clipper "Destiny" is on pages 23-27 and looks great. The other article was on a Perry Designed 35'. Ellen & Brian Ballard aboard "Icthus" a Clipper 42
"Cruising World", Feb. 99, small article on page 10 about Hugh Callum who sailed a 42' Cheoy Lee Ketch before he was killed in a boating acident.
We just recieved this e-mail...Will be watching for the article in "Soundings" james...
Hi. My wife (Gwyn) and I (Ron) are in the third year of a five year
restoration of a 1977 Cheoy Lee 36 Clipper. Her name is "Rapport" and
she will be the subject of an article in "Soundings" in Sept. 1988. Would like to talk with other owners about these boats. E-Mail - us at clsailor@sprynet.com. Chesapeake, VA
---
"Practical Sailor", April 1996 issue, ran a review of the Cheoy Lee Clippers 36 and 42'. The review gives some background of the Cheoy Lee company, a short review of the designer - Bill Luders, and comments of Clipper owners. Overall the review of the Clippers was very positive both for their sailing characteristics as well as their construction. The article also gives the price history of these two Clippers and concludes with the statement - "there's no denying that the "classic" look of the Cheoy Lee Clippers series is enough to make your heart flutter: "That's what a boat is suppose to look like!" Indeed, some well-known personalities such as singer Jimmy Buffet have succumbed to the Clipper's Siren song..." By the way the Clipper 36 used for the cover was "Tenderlies" now named "Jamcill" which is our (james and cillas) boat...
---
"Sail", June 1998 issue, has a story by Nikki Perryman who with her partner Jamie sail a 1956 Lion Class Cheoy Lee named "Siandra". The article is about their trip from Sydney to Darwin and being caught in a force 12 Cyclone. Great article and "Siandra" took them safely through several days of the storm. submitted by Ben Stavis aboard "Astarte"
---
Movies...
There is a movie titled "Thief of Hearts," in which a Frisco Flyer Type II was prominently featured. That boat, "Steppenwolf," is the one which was later singlehanded by Joe Yeager of San Diego through the Panama Canal and up the East Coast. She is now owned by Richard Peck, one of our members. submitted by Dr. Wayne S.. aboard a Frisco Flyer "Sumatra"

---
"Practical Sailor", July 1, 1998 (current issue) has a short article on a Cheoy Lee 35 with an encapsulated keel that had problems after running aground and had water enter the hollow space around the lead which then leaked through the hull-to-keel seal. Good article on this problem...
---
"Cruising World", August 1998 issue had article by Kim Des Rochers aboard a 35 Cheoy Lee sloop sailing the South Pacific from Fiji to New Guinea. Article is about making your own awnings..
---
"Atlantic Circle", - Bill C.. aboard "Northern Light" and Neil Hammari says this book by Katherine Lasky Knight is about crusing on a Bermuda 30, first serialized in SAIL in the 70's and has a lot of pictures.
---
"Storm Tactics" by Lin & Larry Pardey, - Ron T.. points out that starting on page 120 of this book is a reference to a Cheoy Lee Offshore 40s encounter with a storm off New Zealand. Sigmund and Carol Baardsen analize what they did right and wrong dealing with the storm...