November 25,2000
Greetings from Oz,

I realized I haven't written much lately, so here's the latest from the voyage of the Endless Summer: Before leaving New Caledonia, instead of the boring task of organizing the boat for the passage to Australia I decided to take off on a cruise up to the Loyalty Islands with my friend Christophe. Our first stop was Ouvea, about 100 miles north of the mainland, most famous for it's white sand beach that stretches for almost 30 miles, with nothing but aqua-blue lagoon waters on one side, and coconut palms on the other. There were hardly any people on the island, but we did find one little guest house that rented us some bikes one day. The next night the weather unexpectedly changed to westerly winds, and we woke up bouncing in the surf off the beach in 6 feet of water. Time to move! With no protected anchorage nearby, we decided to take advantage of the westerlies and run down the 50 miles or so to Lifou.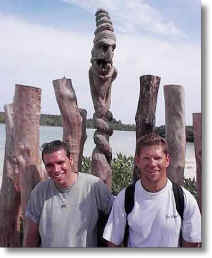 At Lifou we anchored near a small village in the lee of a huge coral cliff on top of which was a little chapel with an enormous statue of Mary on the roof. There are an amazing amount of old cathedrals and churches scattered around these islands. There seemed to be at least one church for every little cluster of 6 or 7 grass huts. The missionaries must have had quite a time trying to convince the Kanaks to stop running around naked and eating each other. According to local history, quite a few of the missionaries ended up on the menu themselves during those times. Most of the churches are now long since abandoned, but more recently satellite TV, junk food and government assistance has kept the islanders from returning to their pagan ways (for the most part). It was very amusing to see the little round grass houses sporting TV antennas!
The diving in Lifou was amazing, with all kinds of coral formations, fish and turtles that I had never seen before. And I'm happy to report seeing only one or two small sharks. The coolest was when we sailed out about 5 miles north of the island to an offshore reef, where we anchored in 30 feet, and went snorkeling in the middle of the ocean. I had never done anything like that before, and it was a bit weird, especially when we came across a rusty old shipwreck. We were looking for the rock lobsters that are rumored to be in abundance out there, but after a couple of hours of poking around under every rock and looking in every hole we gave up and settled for tuna sandwiches for lunch.
A couple of days later while cruising down the east coast of Lifou, a nasty little front blew in with 35 knot winds, big seas and heavy rain. Since we couldn't see to find our way through the reef we had to keep on going all the way back to Noumea. It turned out to be a long rough night passage during which the windvane and both autopilots failed! A new record. But the weather gradually improved and at sunrise we were escorted into Havanah pass by a school of dolphins surfing in our bow wave.
We got to Noumea just in time for Christophe to make his flight back to Paris, and just in time for me to find out the entire cruising fleet was about to leave for Australia to take advantage of a nice weather window. So I raced off to the welders with the windvane, picked up a few groceries, cleared customs, and headed out the pass in time to join the floating marina making its way to Oz. It was a fairly nice trip, especially since there were so many boats together that we could all keep in VHF contact and share ship sightings, etc. Besides the VHF, in early August a group of us started a new SSB net called the "Kava Club." We had about 60 or 70 boats checking in from Fiji to Australia, and I ended up being the Tuesday morning net controller (kind of like being a radio talk show host). In between keeping track of all the boat's positions, and dealing with various minor emergencies, there were some very entertaining moments. Unlike last year, so far nobody has managed to sink their boat this year, although there have been a few rough landings on the reefs. Since it was my last big ocean trip for a while I decided to push it hard, and I managed to keep up with two multihulls all the way across. I didn't reef down unless the boat was completely out of control. I just relaxed and let the windvane drive, while we surfed down waves at up to 9 knots! Anyway, I figured I had plenty of diesel to make it even if the entire rig blew away. As it turned out, I made it to Brisbane in just 6 days, and the only casualty was the spinnaker pole, which self-destructed when the boat got turned sideways by a monster wave. Now that the boat's all tied up in a safe place, I hope to see everyone in California in a few weeks.

Cheers,

Doug



4/99 We received this email from Doug in April
James,
We cruisers don't get to look at web pages very often, but yours is really excellent. I thought I'd let you know that next week we are departing Puerto Vallarta for the Marquesas and points west on our 1968 Cheoy Lee Alden 32 "Endless Summer." I'll let you know if we make it!
Doug Villepique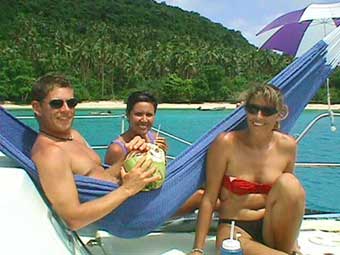 11/99 Email message...

James,
I finally made it to a country with good internet cafes, and looked up the new location of your website. It looks like it has really taken off. Congratulations!
I last wrote you that I was planning to sail to Tahiti in my 68 Cheoy Lee Alden 32 Motorsailer, "Endless Summer". Hey, I made it, so I kept going. We made the crossing from Puerto Vallarta to the Marquesas in a fairly respectable 26 days, without even using all of our diesel. I was a bit worried about boat speed, but we made a faster passage than many of the bigger, heavier boats.
Since then the Alden 32 has been a great boat for cruising and living aboard all through French Polynesia. With the good visibility from the inside station, it was an easy boat to single hand, which I did from Bora Bora to Niue (near Tonga). I did survive one nasty gale that lasted for about 4 and a half days, but the boat always seemed to stay on it's feet, even in 45 knot winds with 20 foot breaking waves. It certainly wasn't pleasant, but most of the time the trade wind sailing has been fine, if a little monotonous. I will now be leaving the boat in Fiji for the hurricane season. Since everything is still more or less holding together, I think I'll continue westward toward the Indian Ocean next year. Who knows, maybe this old boat will make it all the way around! I'll try to send a digital pic next time.
Cheers, Doug Villepique
12/99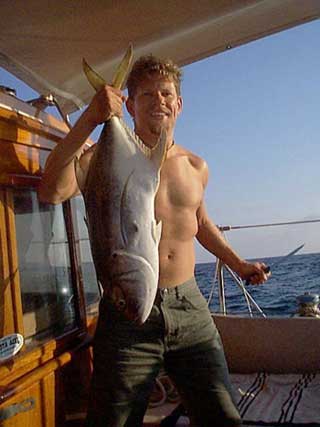 Bula! (Greetings from Fiji)

James,

Here are some recent excerpts from my cruising log and some pictures of me and the boat. After doing some windvane repairs, provisioning, and signing on Reuth as my new crew, we departed Nuie on a nice calm afternoon for the two day trip to the Vava'u group in Tonga. The calm weather was a nice change from the previous month of 30 knot winds and big lumpy seas. Unfortunately, it became so calm that we decided to start up the motor. It started right up, complete with a horrible crunching sound, sort of like a blender full of nuts and bolts. So we drifted around in the swells all night and waited for some wind. And then we got the wind! Within an hour it was blowing a full gale out of the south, giving us a quick but bumpy ride with the waves on the beam. Needless to say, everything that was stored on the port side of the boat was now on the floor. By the time we made landfall, it was blowing 35 knots out of the entrance channel, which made tacking in without the engine most exciting. We finally pulled up at a nice white sandy beach. The next morning friends on the J120 "Attitude" towed us the last few miles into the main harbor at Neiafu. I was quite impressed with the J120 being able to do 6 knots with jib alone, while towing a heavily loaded Cheoy Lee! Neiafu was good fun, even though I spent a lot of my time there hauling out my transmission to replace a faulty dampener plate. With a lot of help from Glen on "Southern Cross," we managed to hoist it out with the boom, and lower it into the cockpit, where it remained for a month, until Trace from "Wanderlust" returned from his trip to California with a new part for me. Neiafu is the home of Anna's Café, and a big Moorings charter boat base. There was lot's of fun stuff to do, even races every Friday night. There must have been over 100 boats in the harbor. I got to race on Attitude one week, and Illusion, a Macgregor 65, the following week. We won first place with Illusion, and had a great time.

There was also a happy hour at Anna's everyday. It was fun to have a gathering place where everyone could hang out and swap stories about the most recent passages from hell that many of us had experienced. The biggest story was the news that our friend Phil's trimaran "Legend" had sunk near Aitutaki. Phil was picked up by another sailboat before the boat finished sinking, but was unable to salvage much of anything. We all wondered if it could have happened to us. Three weeks later, the sailboat "Woodstock" went up on a reef while underway to southern Tonga. Their beautiful boat sank as Pepper, her husband Rich, and their cat Mercedes sat in the dinghy and watched. Apparently 14 boats have been lost this year in the South Pacific. The good part of the story is that no people have been lost, and most of the bigger boats were fully insured.

I've also heard some of the funniest cruising stories ever recently. One of my favorites is my friend Dave's spear fishing story. One day Dave, from the trimaran "Peregrine," decided to jump in and catch a fish he had seen swimming under his boat. So down he went with his snorkel and fins to shoot the fish. Unfortunately the crafty fish swam by right in front of one of the hulls as Dave shot at it, and the spear ended up going through the bottom of the boat. That made Dave a little mad I guess, so he tried again and put a matching hole in one of the other hulls! So the fish got away and Dave spent the rest of his day mixing up underwater epoxy. "Peregrine" is the boat with the hammock I am enjoying in the picture. They also have a full size inflatable couch on deck, with armchair and ottoman. That's what I call a nicely equipped cruising boat.

While in Tonga, I finally made the decision to continue on to Fiji, and spend the cyclone season there. I didn't particularly want to subject myself, or the boat, to the long nasty passage to New Zealand. Along with this new plan came a crew change as Reuth was headed for New Zealand. Luckily, I had recently met a very capable and experienced young Hawaiian guy who wanted to sail to Fiji. While Ty was onboard, we caught tons of fish, including a beautiful Mahi Mahi on the way to Fiji.

The passage to Fiji turned out to be incredibly pleasant, with flat seas, light winds, and sunshine for 5 days. Of course, I did get to break up the monotony by changing broken alternator belts, chafed rigging, and broken shackles. The windvane snapped in half again as well, but I am beginning to expect these things to happen. Since we were sailing along at only 3 or 4 knots, we took turns diving off the bow and catching a rope dragging behind the boat. I kept thinking that I must look a lot like a big fishing lure on the end of the rope, but we decided there weren't any sharks around. After swimming and splashing around in the water for 4 days, one day around sunset I looked over the side, and there it was: a 10 foot tiger shark swimming lazily by. At this point I broke my usual policy of no cocktails while underway, and poured a couple of nice tall rum and cokes.

Anyway, now I'm in Fiji, at the Royal Suva Yacht Club. So far, Suva has been wonderful, with great Indian food, hot showers, cheap beer, fun shopping, and lots of fun nightclubs. We hiked up to the top of Mt. Corumbamba a few days ago, and swam in a waterfall, with a great view of the city and the harbor. What a beautiful place. There is a boatyard here on the west side of the island where they put your boat in a hole in the ground, supported by old truck tires. This is supposed to be safe from hurricanes, so I guess that will be my plan. They also seem to do fairly good spray painting and metal work. Hopefully I'll be able to get things shined up and patched together a bit better before it's time to go to sea again. I still have no idea where this little cruise is headed next, so stay tuned.

Doug Villepique
"Endless Summer"
(Fiji for now)
JULY 2000
Hi all,

Just to prove I do more than sit around in the sun drinking rum out of coconuts, here's a couple pics to show you what I've been up to lately.
As you can see, the boat was looking pretty shabby after being abandoned in Fiji for five months. I was a bit concerned about hauling the boat with all the political unrest going on, but Vuda Point. seemed fairly safe after they put a military road block on the entrance road. So I went ahead and had the boat pulled out. With the help of a couple local guys from the boat yard, I spent most of the past four weeks scraping, sanding, epoxying, painting and varnishing. The marina did the final spray painting, and put new non-skid on the cabin roof. The whole job cost about 20% of what it would have cost in California, and it looks great. Of course everything else looks on board now looks shabby by comparison, so now I have to paint the deck, clean the stainless, etc... And you all thought I was just lounging around down here.
My crew for the next trip, an American guy named Jamie, and I are doing the last few things today to get ready for the crossing to New Caledonia. We're anchored at Musket Cove which is just inside the pass through the reef that we'll be heading out as soon as the weather clears. Hopefully we'll get a nice light breeze and be over there in about seven days. After some of the way too exciting sailing trips I had last year, I'd be perfectly happy to motor all the way in flat calm conditions. Who needs wind? As one of the salty old yacht club regulars recently said when asked why he always runs the motor when he makes passages: "because that's what it's for!" Actually the run to New Caledonia should be a nice broad reach if the the trade winds do what they're supposed to do. It would be a welcome change from the thousands of miles of rolling directly down wind.
Well, that's about all for Fiji. I hope you are all well and enjoying the summer at home. I'll write again once I figure out how to access to the internet in Noumea.
Au revoir,

Doug

Bonjour! Aug 2000

Greetings from New Caledonia, or Nouvelle Caledonie as it's known in the local Frog dialect. The 5-day trip over from Fiji set all kinds of trip records. For two of the days we averaged close to 7 knots, which is blazing fast for this little old motorsailer. But most remarkable was the fact that 700 miles later, as we arrived in Noumea, nothing had broken! Not even the
windvane steering gear, which is typically in several pieces by the end of a passage. This situation was quickly corrected by a young Frenchman in a power boat who crashed into the stern a few hours after we tied up in the marina. Once again, the windvane is in multiple fragments. Anyone know how to say "aluminum welding" in French? It isn't in my little tourist phrasebook for some reason. However, it does have the all important phrase: "Ou pouvons-nous installer notre caravane?"which means: "where can we park our trailer?"

From what I've seen so far, I think this is going to be a great country to spend a few months in until it warms up enough to sail "down under." There are lot's of little bays and outer islands to explore, and some nice flat-water sailing inside the barrier reef. The water is a bit cooler down here, but one noticeable trade-off seems to be healthier coral reefs. The colors of the live coral are really spectacular. The city of Noumea is amazingly cultured and civilized compared to the other island cities I've visited. It is known as the "Paris of the South Pacific." It's full of well dressed Parisians who come here to work in schools, hospitals, etc. This whole place is very French. There are beautiful parks, cafes, restaurants, trendy shops, and lot's of art galleries. There are also wonderful French bakeries and an open market full of baked goods, seafood, produce, and flowers. Many of the people don't speak any English, so I've had to resort to my extremely limited French vocabulary several times. Une biere s'il vous plait...
I've been tied up (and plugged in!) at Port Moselle, the big downtown marina this week while waiting for Katie to return from 5 days in quarantine. The inspectors decided that since I 'm planning to spend several months here, that she had to go through the full treatment, including having a microchip implanted. The good news is that she'll have a fresh certificate of health when she gets out, which will be helpful when she gets to Australia. In the meantime I'm enjoying the hot showers, electricity, and all the conveniences of city living at my doorstep.
Until next time, Doug
July 2000