Golden Waves by
Cheoy Lee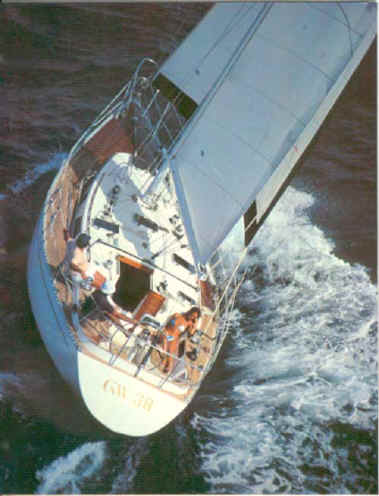 42 Designed by Robert H. Perry, 38 by David Pedrick,
& the 48 designed by Britton Chance
Golden Wave 38

Specs
Length Overall................................. 38.33'
Waterline Length............................ 30.83'
Beam.................................................. 11.79'
Draft.................................................... 6'
Displacement................................... 19,025 Lbs
Ballast (lead)..................................... 6,700 Lbs
Height Above Waterline................. 55.25'
Fuel..................................................... 47 US Gal
Water.................................................. 138 US Gal
Engine: Universal 40
V Drive, 2:1 reduction gear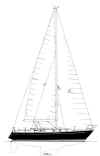 Click above for 38 Line Drawings, below for pics and
page from original brochure
---
Golden Wave 42
Designed by Robert Perry
2/08 We finally have a copy of the brochure submitted by Dan Williams aboard "Deseado" click here for copy in PDF format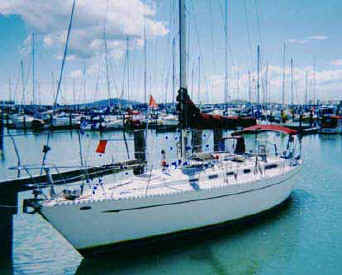 Click Here for PDF file with line drawing submitted by Bruce Morris

Above pic borrowed from ad on YachtWorlds Web Page
Below pics submitted by Chris Ditzen also from YachtWorlds Ad

Golden Wave 48
Specs
Length Overall.............. 48.83'
Waterline Length.......... 40.63'
Beam............................... 15.91'
Draft................................. 6.5'
Displacement................ 34,000Lbs
Ballast (lead).................. 6,700 Lbs
Fuel.................................. 80 US Gal
Water............................... 210 US Gal
Available in a shoal draft model (6'6") or centerboard model (4'7" up, 11'6" down)




Click above for 48 Line Drawings, below for pics and
page from original brochure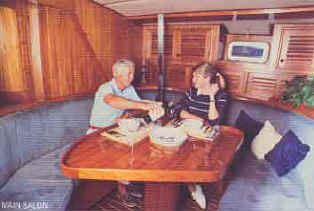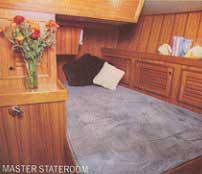 ---
More info on the Golden Waves...

Hi, Just saw your website...nice!

Indeed there is such a beast as the Cheoy Lee Golden Wave 42 designed by Bob Perry. Mine dates from 1981; I've owned her for just over 11 years and love her to death. She looks very much like a Nautor Swan above the water. Below the water, she's a knock-off of Perry's classic Valiant 40 design....moderate fin keel and spade rudder with a big skeg. She sails marvelously. On ocean passages I've come to count on 160 NM per day. Her favorite point of sail is close reaching; not unusual to see the knotmeter hit 8-9 knots in 15-20 knot winds! A very comfortable sea boat. Cheoy Lee shipyards (which I've personally visited a number of times) are known for their excellent solid fiberglass hulls. The GW42 carries this tradition wonderfully. Cheoy Lee (sometimes dubbed "Cheoy Leaky") is also known for some pretty shoddy hardware; often, it seems, cooked up from home-grown pot metal. Most of this is avoided in the GW42, at least on mine. Almost all the hardware is English or American or French. A couple of exceptions are the chainplates (which I've replaced), the stem plate (which I replaced), and a few others which I've also replaced. The GW42's came rigged as cutters, with a tall rig and Navtek rod rigging. They are very much sought after on the used market but are rarely found; most of the owners seem to know what they've got and want to stick with it.
Bill Trayfors
---
Your web page makes mention of a "Golden Wave 42" which someone had bought and made inquiries about. It turns out that "Golden Wave Shipyards" is a name Cheoy Lee used to build boats in the Midnight Lace series of power boats. The operation and the models are described on http://www.lucaslace.com/hist.htm and there is a magazine article available describing some of the theory behind the design of these boats-- by designer Tom Fexas and cited on that webpage.
Now here's the rub-- Apparently they produced a line of sailboats meant to compete with the Nautor Swans as well, under the Golden Wave Shipyards" rubric!
Wayne
---
Here is excerpt from page that Wayne spoke of...
"There are twenty 44' Midnight Laces, thirteen 52s, and one 65 footer. The first two prototypes were built in Florida and the 65' was built in Brazil. All of the rest were built by Cheoy Lee Shipyards of Hong Kong, one of the largest if not the largest builder in the world. Cheoy Lee builds both ships and yachts and has an extensive yacht line of their own. The Midnight Lace was the only boat Cheoy Lee built for someone else and they did so by forming a separate company called "Golden Wave Shipyards." Under the same name they produced a number of sailboats intended to compete with Nautor Swan without association with the normal Cheoy Lee line. The Lace shared consecutive "hull numbers" with these sailboats and accounts for why the Laces go as far as Hull #062 while only thirty-one were built by Cheoy Lee."