The Clipper Series
Designed by Bill Luders
"Jamcill" formally Tenderlies

The finest lines of any boat built
The August 2001 issue of "Cruising World" ran a short piece on the Clipper 36 as being a great buy in classic used boats...
We have Clipper Shirts and Gifts at our online store, Click Here to view
All images can be clicked for full image from brochure
A.E."Bill" Luders Jr. was the designer of this series of Cheoy Lee's and some of the Offshore series as well as many of the Midshipman series. He was a well known designer from the U.S. who designed the 44' yawls for the Naval Academy at Annapolis as well as the 12 metre "American Eagle". He also designed the Luders 34 which was a semi-custom boat built by Ryder Yachts of Bristol, Rhode Island. Click Here for a tribute to Mr. Luders by Ted Brewer


LOA: 32'11"
LWL: 24"
Beam: 10'
Draft: 4'
Disp:12,000 lbs.
Ballast 3,650 lbs.
Sail Area 568 sq. ft.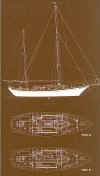 Hull is fiberglass molded to Lloyd's standard, 50 gal fiberglass water tank with 6 gal stainless sump tank, spars were Sitka Spruce with Roller reefing on main boom, Engine was Atomic-4 30 HP with optional Perkins 4/108 or Volvo Penta MD-11C type 25 HP available. Sails - main, working jib, fore stay-sail and mizzen.
The 36 was available in two cabin layouts, Layout A: Double drop leaf dining table with storage center, 2 hinged pilot berths P & S with drawers under, or Layout B: Port side convertible dinette and hinged pilot berth at stbd. side with drawers under.



Click image for Large Scan of Original
Ad from Yachting Magazine
We have several Clippers listed
for sale, click here
Clipper 42


LOA: 42'5"
LWL: 30'
Beam: 12'1"
Draft: 5'9"
Disp: 23,500 lbs.
Ballast: 9,000 lbs.
(Cast Iron)
Sail Area: 928 sq. ft.
Ballast/Disp. ratio: 389
Sail area/disp. ratio: 18
| | |
| --- | --- |
| | The 42 began production in 1970. The 42 was available in 3 layouts plus a pilot house version. The 42 was also available as a Schooner or Ketch rig |


Clipper Schooner
The photo of the "clipper schooner" on the bottom left of your website is one 1971 Choey Lee Clipper '42 Staysail Schooner christened the "Taxi Dancer" of Juneau, AK. The vessel was originally named "TAI-PAN" and still has the plaque inside with the name on it, which reads in Chinese that it was made in a shipyard in Kowloon, Hong Kong (luckily my girlfriend is chinese). The vessel was renamed by it's second owner to "Foreign Affair", and renamed again by it's 3rd owner (Timothy Davis I believe) in 1981 to the Taxi Dancer. The boat at that time was torn down to the hull and completely remodeled. A new motor and transmission was put in it, among other things, and the dog house was added. The vessel was acquired in 1999 by one Mark Dorsey who I believe to be the Fourth owner. I acquired the vessel in August of 2006. She's in good shape with a few minor chips in the gel coat from a few recent storms, and looks quite like she did in that photo. Add a dinghy hoisted off the stern, and in place sail bags and you have the boat I'm writing this email from. Scott McCoy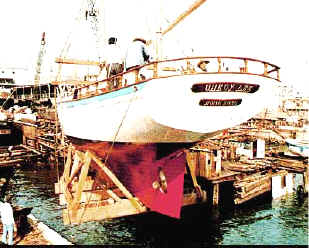 The Clipper series included the 33, 36, 42 and the 48' and were mostly ketch-rigged (actually cutter ketches with a Yankee, staysail, main and mizzen) although according to PS the 36' was available as a cutter rig and the 36', 42' and 48' could be had as a staysail schooner. The 42 was also available as a pilothouse version. See brochure below. These are heavy displacement boats with a displacement/length ratio of 464 for the 36' and 389 for the 42. Cheoy Lee also produced the Cruisaire 30 Clipper although I do not believe Mr Luders designed this model. Click Here for page on the Cruisaire.
The Clipper 36 was produced from 1969 to around 1988 (data from 54 members) with the Clipper 42' being introduced in 1970. I am not sure what years the Clipper 33 and the 48 were in production nor do I have, at this time, the numbers produced. My 36 Clipper has a hull number of 2318 but I am sure the numbers were not sequential for each model since my 1969 Clipper was from the first year of production. According to "PS" the selling prices in 1976 were $48,000 for the 36' and $72,000 for the 42'
Safety Update on Clipper Dolphin Striker Fitting
Jamie Sibley aboard "Flying Cloud" a Clipper 36
I have started breaking the 4 Clipper models onto separate pages. Click Here for new Clipper 36 page
Clipper 48

LOA: 47'11"
LWL: 34'
Beam: 13'
Draft: 6'
Disp: 31,000 lbs.
Ballast: ??? lbs.
Sail Area:
Ketch
Fore A 580
Main 396
Mizz 206
Total 1182' sq. ft.
Schooner
Fore A 441
Main 423
Mizz 525
Total 1390' sq. ft.

| | |
| --- | --- |
| | The 48 came with 200 gal water tank, 100 gal fuel tank and was available in 3 layouts. Plan A slept 9 and plans B and C had a circular settee |